Lauren Daigle – 'Christmastime Is Here'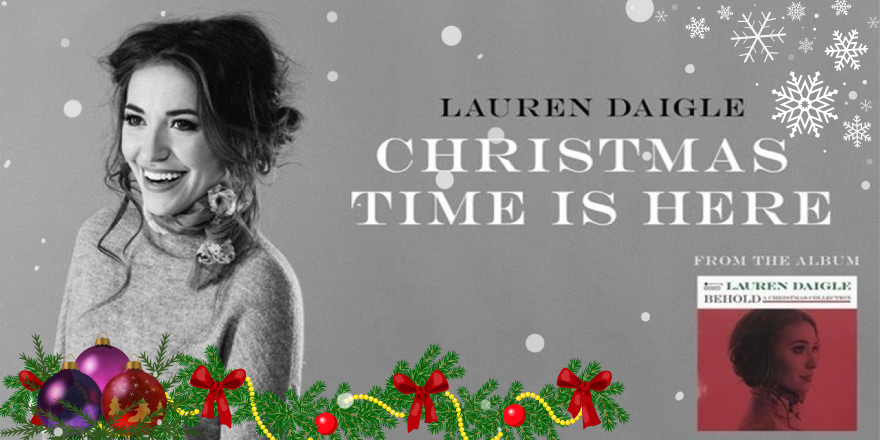 By Kevin Sparkman, CCM Magazine
Before you unwrap the candy cane or sip on that peppermint mocha, you might want to first consider the palette. "You talk about Bourbon Street," Lauren Daigle responds to my question about her upbringing as she sits across from me in the CCM Magazine conference room. "But all the locals go to Frenchman Street. I grew up going to Frenchman Street and listening to the brass bands on the street corners. Just the sentiment of the sound, that air… You can hear saxophones bouncing off the walls of the French Quarter and you don't know if they're ten or just one street over because of the sound that reverbs throughout the whole city."
"Away in a Manger" took me by surprise! Who knew the tender words could come alive in such a way with a melody new to me yet known to so many around the world? We used the traditional original melody for "Away in a Manger" & I'm so glad we did!https://t.co/6exXklWMB6 pic.twitter.com/Hdb0CVLCUL

— Lauren Daigle (@Lauren_Daigle) December 5, 2018
With her first Centricity Music Christmas offering, Behold: A Christmas Collection —the album that almost wasn't—you will experience brass bands and saxophones bouncing off your decades-old decorations of green-and-red-glittered donned walls. Bringing a little bit…um, make that a lot of her home to yours, I'm willing to bet the smells of crawfish and jambalaya will be creeping out of a lot more kitchens north of the swampy southlands this year, accompanying the unique new sounds of Christmas 2016.
Here is Lauren's live performance of "Christmas Time is Here"

CCM Magazine: We love Behold … But it's not just another jazzy holiday album. This is… Well, it's thick, dirty…Bourbon Street. How do you think it's going to translate to straight-arrow Christian music audiences? Personally, what's your expectation?
Lauren Daigle: Originally we started it out as just an EP, but it was just so fulfilling, so we turned it into a full-length. In that, that's when the question was brought up. "Do we keep all Christian songs, or do we…? In my camp, what we call it is "extending the tent pegs." We thought, "Maybe this is a way to capture all the people that enjoy Christmas?" Whether they're Christian, non-believers…maybe it's what will win those—maybe it takes their ear in a little bit and they say, "All right, what's all this about?"
All that to say, we trust [the Christian music fan] will understand that the goal is to reach all people—every tongue, every eye, every tribe, every nation would know who Jesus is."
CCM: Because it is Christmas music, yes, the content is an easy entry for Christians—but given the overall timbre of the project, we would imagine that the music will resonate with everyone.
LD: I think…to just get a new sound in our veins—something that's a little outside of our wheelhouse—but, yes, it's still very approachable because it's Christmas music and there's obviously Christian songs on there. We were really respectful to those Christian selections—my heart was that out of everything, they would be the ones to really cut through on the record.
The other side of the pendulum is that the people who wouldn't ever listen to Christian radio could tap in, because it has such a rich, jazz sound. It might be a little rootsy, but it also has the wonder and the elements of Christmas through a Christian perspective, as well. The goal was for it to be a kind-of blend.
CCM: Of all things, with a Christmas record, do you think Behold has the potential of not only crossing the seasonal music barrier, but also seeing it become a success in mainstream music?
LD: That barrier…these are the questions I love. I'll say, "Yes," but not because I'm tooting my own horn. My heart is to make that wall decrease. Not in the sense that we're becoming "of the world," but that we stop looking at it as unapproachable. I think that with the over-commercialization of Christmas, as with our approach to making this record, we did want to see that wall come down.
This also kind-of goes back to when we were picking songs for the album. This is why I love that you asked this question… In the process of making the record there was this overwhelming sense of connection in the studio. Every person in the room was still. They heard again. They listened again. People were sharing laughs. The instruments were corresponding with one another in a way I've never experienced before.

It's like, how jazz is supposed to work—each instrument has to talk with one another throughout the entire song. When [producer] Paul [Mabury] went to comp things, he couldn't comp because if he comped the saxophone, then the trombone gets messed up because the saxophone was responding to a lick that the trombone did—so everything is pretty much one-take from start to finish.
---
For the rest of the article, go to CCMMagazine.com
Click here to read more articles like this from CCM Magazine! The above article is printed with permission from CCM Magazine, the No. 1 source for all things Christian music, news and entertainment